ATU Celebrates Women's History Month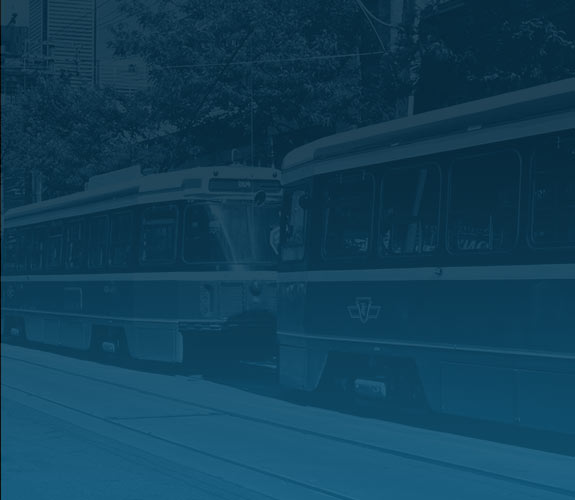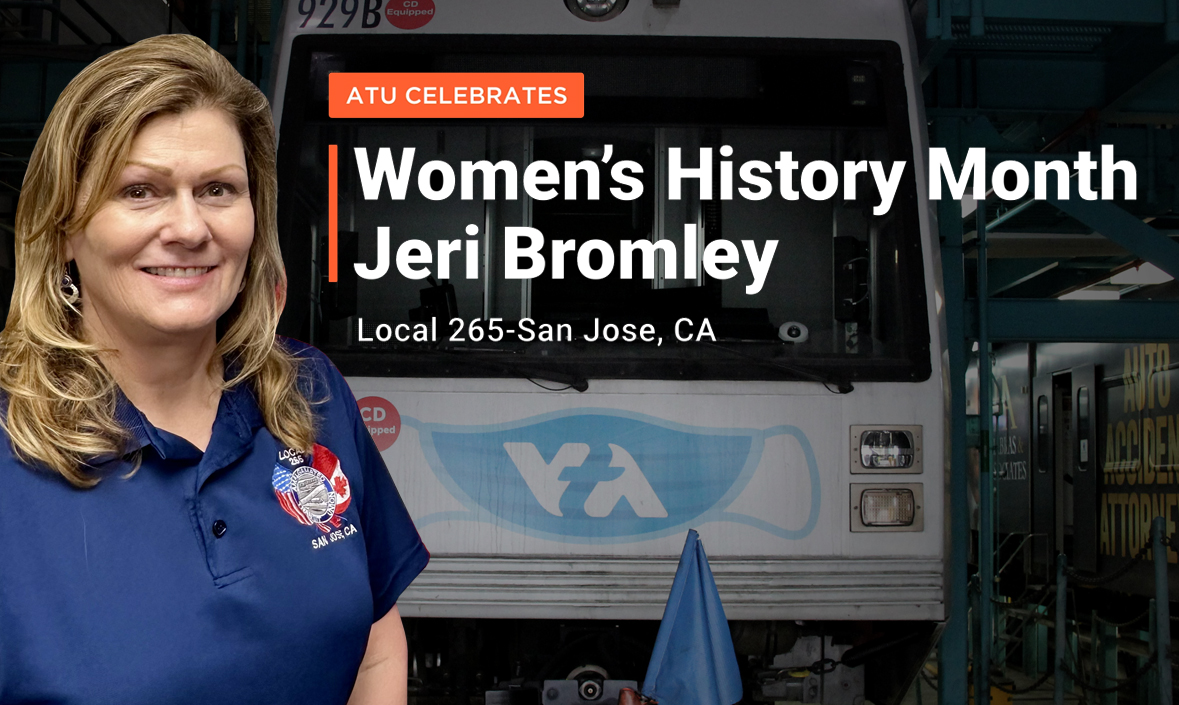 A member of ATU Local 265-San Jose, CA, for 34 years, Sister Jeri Bromley is a Parts Foreperson for the Santa Clara Valley Transportation Authority (VTA). In her job, Sister Bromley has fought to keep our members' work in house by working to fill parts positions with her fellow ATU Members. The Department has almost doubled in size, creating a career path in maintenance for our Local 265 Members. Sister Bromley also serves as the Director of the Local's COPE Committee and serves as a delegate for the South Bay Labor Council, helping to get Labor and Transit friendly politicians elected. She is always the first to get involved with her Local and recruit fellow members to attend rallies, political functions, and campaigns to fight for members on the shop floor. We thank Sister Bromley for her dedication and commitment to her Local and our Union as a proud ATU woman.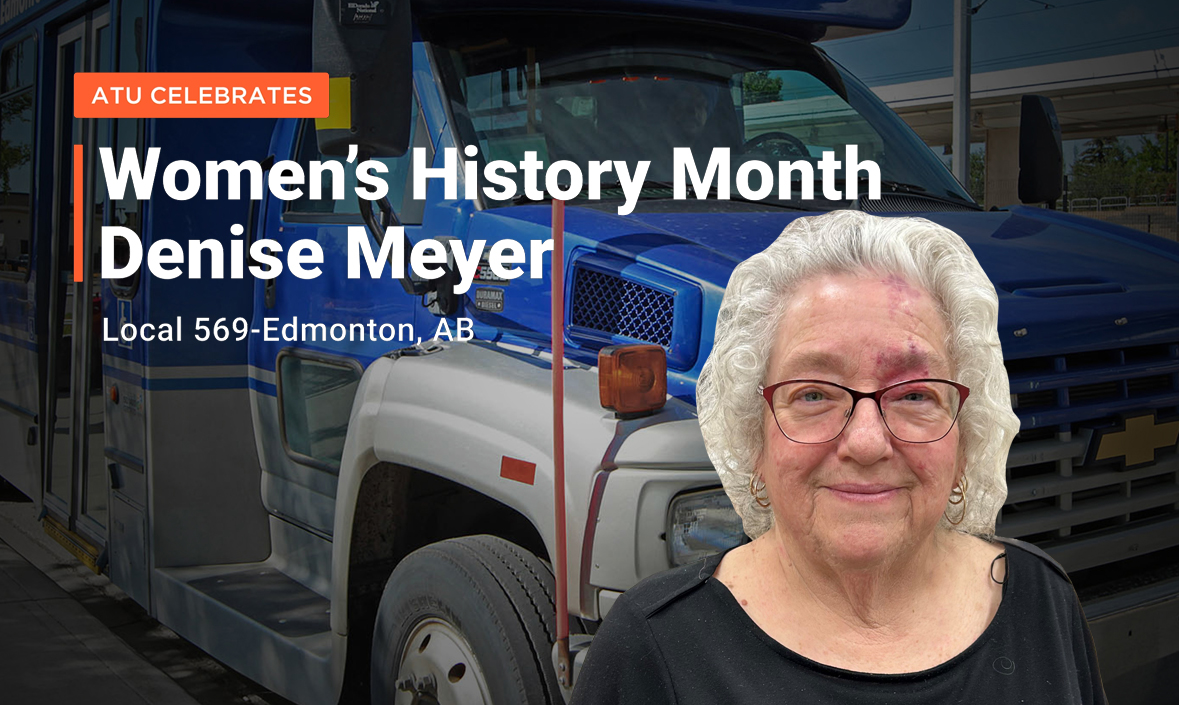 Local 569-Edmonton, AB, Sister Denise Meyer has been a Community Shuttle Operator at Edmonton Transit Service for more than a quarter century. Throughout her career, Sister Meyer has been involved with her Local serving as the Local's elected Recording Secretary, and Chair of the Women's Caucus for many years, including when Local 569 hosted the International Women's Caucus Annual Conference. Also Sister Meyer currently serves as one of the Local's Workplace Harassment Councillors. In this capacity, she mediates disputes and complaints between members, successfully reaching accords that keep these members' concerns out of management's hands and out of their employment files. She also functions as the Recording Secretary for Local's Council of Shop Stewards. Sister Meyer's courage and determination in the face of any challenge has been a beacon of leadership at Local 569 for all of these years. With an unerring moral compass, Sister Meyer never forgets where came from. We can all learn from Sister Meyer's leadership and commitment to her Local and our Union.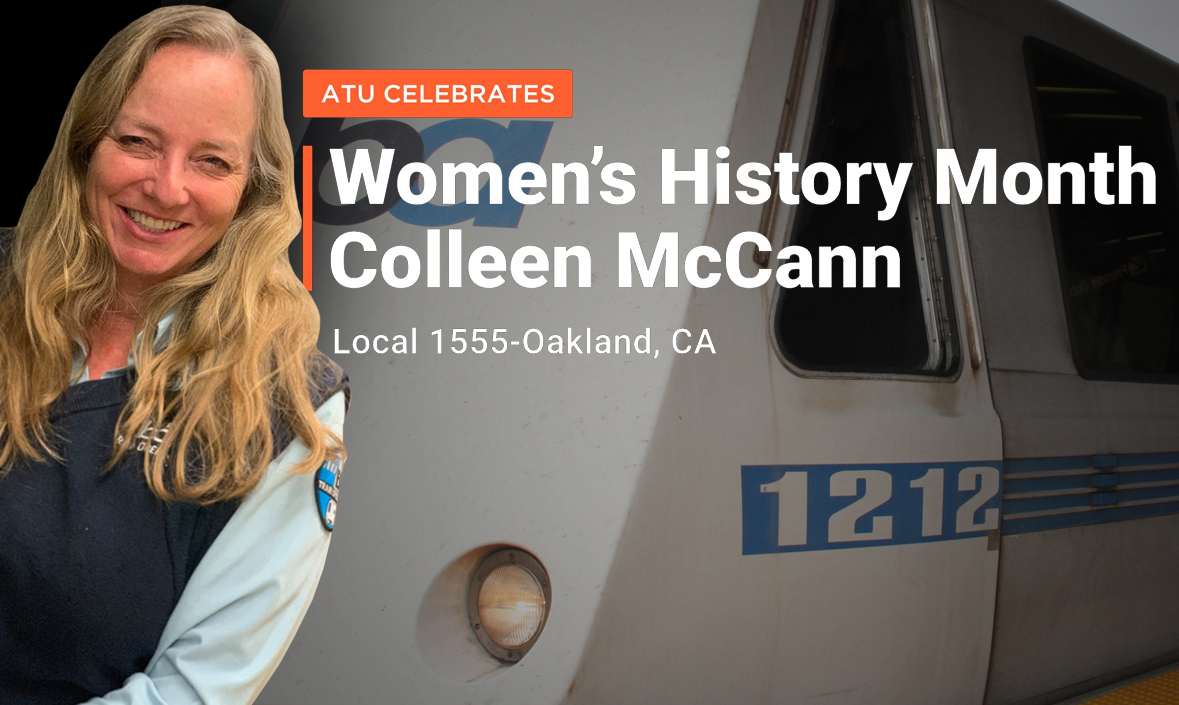 An Operator for the Bay Area Rapid Transit (BART) since 1990, Local 1555-Oakland, CA Sister Colleen McCann has always been eager to get involved with her Local to help fight for the rights and dignity of her fellow ATU members. In 1993 she became a Shop Steward and then was elected as the Local's Financial Secretary-Treasurer in 1993. Sister McCann also played a key role in the Local's successful 7-day strike in 1997. In 2002 she was elected Vice President, proudly serving on her Local's first ever all-female Executive Board. After taking a term off, she was elected Vice President again in 2008. While Sister McCann retired last month, she plans to stay involved and active in her Local. We salute Sister McCann as a trailblazing woman over her long and storied career at her Local and our Union.