Making History
This edition of the In Transit covers the remarkable work that went into our 60th ATU International Convention. It was an amazing experience being with all of you over the week-long meeting where we set the direction of our Union for years to come. We know we'll continue to face adversity, but we also know we can overcome anything if we stand together. We've proven that throughout our history and at our Convention.
Speaker after speaker reminded us how critical our role is in North America and across the broader global labor movement. Resolution after resolution demonstrated our commitment to moving our Union and our world forward. Whether it's climate change, creating pathways for new generations of workers, ensuring equity and inclusion on the job, or guaranteeing mental healthcare for all workers, the delegates at the convention are helping the ATU continue our path toward justice.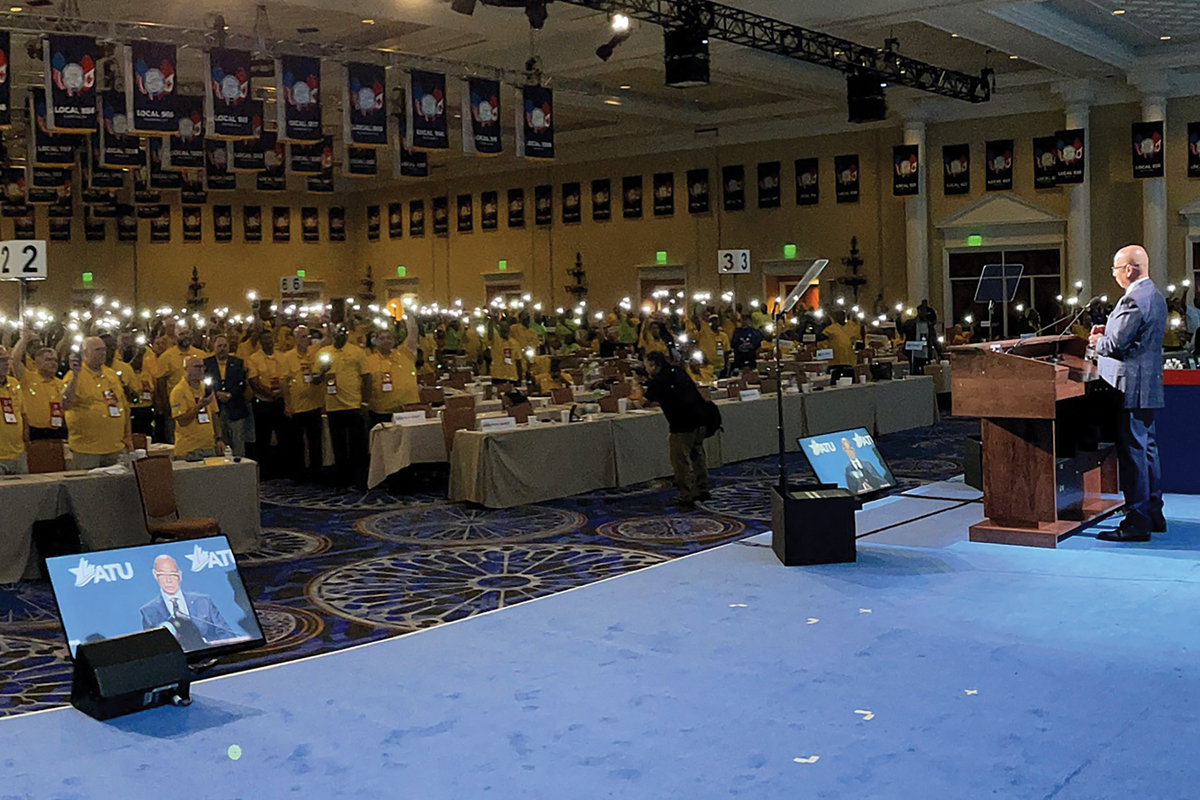 Long Overdue

 
You also elected experienced leadership. We have one of the most diverse unions in North America, and I'm proud that our leadership reflects that. By electing the first woman and Latina International Executive Vice President, not only do we have an exceptionally qualified third-generation ATU member in Yvette Trujillo, but her life experiences and perspectives in this industry as a woman of color are invaluable to this Union and our labor movement. It's long overdue. Congratulations again to everyone who was elected. Democracy in our Union is alive, and it was beautiful to witness. 
I also congratulate our retiring International Vice Presidents, Janis Borchardt, Chuck Watson, Bruce Hamilton, and our International Executive Vice President Javier Perez. Thank you for the decades of work you've done and the difference you've made in so many people's lives—best of luck in your next chapter. You will always have a home at the ATU. 
I also want to take the time to again offer my condolences to ATU International President Emeritus Jim La Sala's family and everyone who, like me, was inspired by Jim and his dedication to this Union. He diversified our leadership and expanded our ranks. He was fearless and respected, and he will be missed but never forgotten. 
The Legacy of the ATU

 
I love history. Studying it and learning from it. Especially our history. I hope you were able to walk through our history room and by the bright displays celebrating our past 59 Conventions. They tell the story of our Union. At Convention, we made history again in who we elected, in the resolutions we put forward, and in the bonds and memories we made with each other, strengthening our solidarity. 
Every three years, we come together to put in the hard work to chart our Union's course at our Convention. Thank you again to everyone who attended and made history with us. You are the living and breathing legacy of the ATU. 
Strike in Toronto and Labor Strife in Ontario
Less than two months after our convention, our Local 1587-Toronto, ON, with approximately 2,200 members working for GO Transit, waged a successful four-day strike against Metrolinx to win critical language to stop the contracting out of our members' jobs. I was on the picket lines with our Local 1587 members and Locals across Ontario supporting them and was inspired by their strength and solidarity. I am proud of the work done before and during the strike to bring people together to protect and expand our public services. Showing our strength by taking over the streets and marching on the boss was worth the contract we secured.  
Fueling our strike at the time was major labor strife hitting Ontario, with 55,000 Canadian Union of Public Employees (CUPE) education workers walking off the job in protest of Premier Doug Ford's government proposed Bill 28 legislation that would strip away their right to strike and impose poor working conditions. Our Union joined this fight in solidarity with what was a battle for the future of the labour movement in Canada, and we won. Doug Ford backed down and repealed Bill 28 in its entirety. It was amazing to witness the power of strikes again, and I'm happy to report that the state of the labour movement is strong in Canada. 
U.S. Mid-Term Elections

 
In the U.S., democracy and, therefore, our very right to join a union was on the ballot for the pivotal midterm elections. We saw tight races in every part of the country. We did what we do best, and we got out the vote. Ultimately, the ATU helped win critical races, from Governor races to maintaining control of the U.S. Senate.
The role Unions played in this election was game-changing. We left it all out on the field. We were told that this election would be a landslide for corporate interests, but instead, we made history. We elected our first Black Governor of Maryland, our first woman Governor of New York, the first LGBTQ+ Governor in U.S. History in Massachusetts, and much more. We elected champions who stand with workers and will protect public transit. Thank you to everyone that organized and got out to vote for people who reflect the very best of our country. You made the difference. 
In the good times and the bad, the ATU will always fight alongside you. Together, we've survived a pandemic, strikes, and assaults on our democracy. Every day our members go to work, or when you make the brave decision to go on strike, the ATU is there. When one of our members is assaulted on the job, or worse, the ATU is there. You are what resilience looks like, and you deserve to be protected on the job and paid and treated fairly. 
Since our last convention, we have proven that we can get things done despite extreme opposition. We can reverse the damage caused by decades of corporate control, privatization, and outdated labor laws, turning low-wage jobs that leave people in poverty into good-paying union jobs. We're finally turning a corner, and we can't stop now.
As we end one year and enter another, I want to wish you and your families the Happiest of Holidays and a Happy New Year. I'm in awe of the work you all do day in and day out. I hope you're warmed by the fact that you are part of something extraordinary. Thank you again for the privilege of fighting alongside you. Here's to a unified and strong 2023!