Hard Work Pays Off on Election Night for ATU Conference Boards in the States
Knowing that the U.S. Elections would likely result in a divided Congress in Washington, D.C., ATU International President John A. Costa focused the Union's precious COPE resources this year on Governor's races, mobilizing state legislative conference boards to get behind Labor-supported candidates.   
ATU's Pennsylvania Conference Board endorsed Attorney General Josh Shapiro (D) more than a year ago in his race for Governor.  Shapiro's running mate for Lt. Governor, Austin Davis (D), has ATU roots. His father, Ankarie, is a bus driver in Pittsburgh and a long-time member of ATU Local 85. Shapiro and Davis were elected and will be great partners in the statehouse as the commonwealth takes up a major transportation bill in the next legislative session.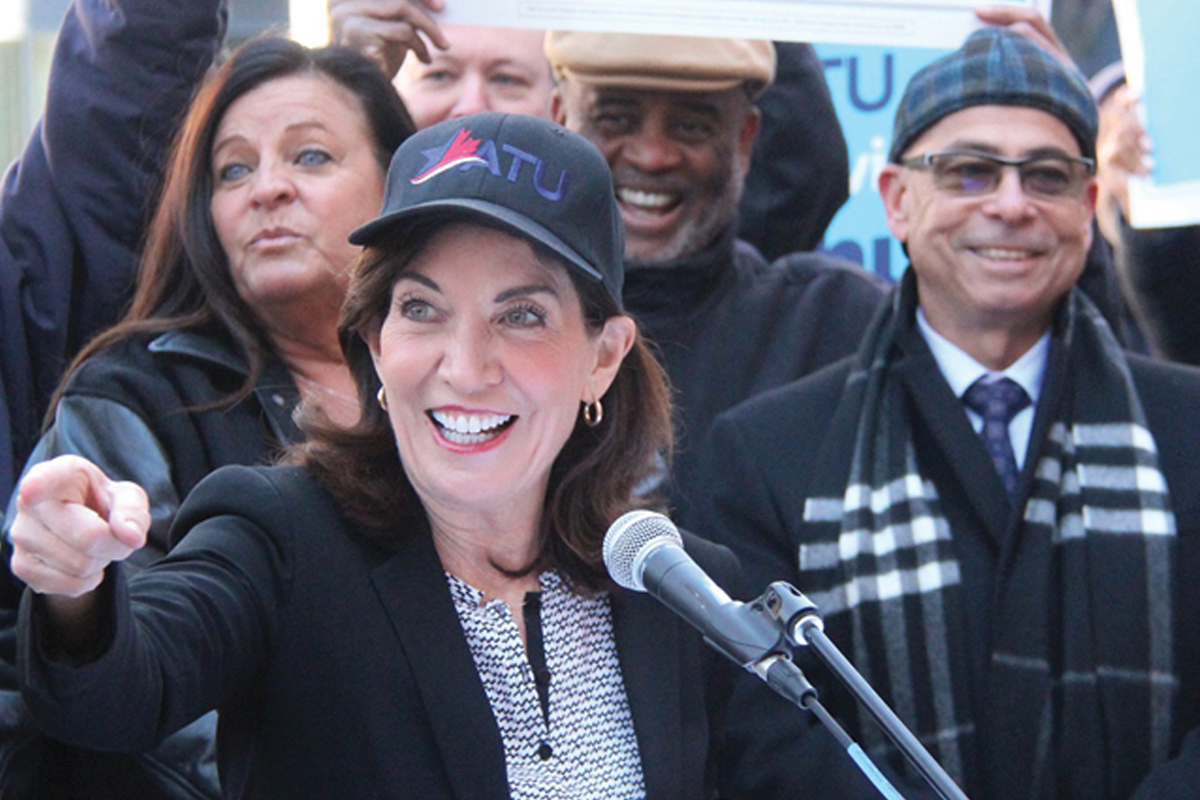 New York Governor Kathy Hochul (D) was elected to her first full term, and the ATU Legislative Conference Board played a major role in pushing her over the finish line in a race that got very tight at the end. The conference board looks forward to working with the Governor on several key issues in 2023, including legislation pushed by Local 1181 that would provide employee protections for school bus drivers. Upstate locals will continue to push for increased transit funding as well.
In Oregon, Local 757 in Portland was a major player in the Governor's race, endorsing Tina Kotek (D), the former Speaker of the state's House of Representatives. Kotek pulled out a major win in a tough three-way race. The Local is directly impacted by who is in charge of the executive branch in Oregon, as the Governor controls the board at TriMet, the transit system in Portland. Now, with a friend in the Governor's seat, Local 757 hopes to work with the new Governor to appoint Labor-friendly board members.
In the Midwest, ATU Legislative Conference Boards in Michigan and Wisconsin worked to reelect Governors Gretchen Whitmer (D-MI) and Tony Evers (D-WI), who have been great friends of organized labor. In New England, ATU worked to re-elect Governor Ned Lamont (D) in Connecticut and helped Maura Healey (D) to become the first woman to be elected Governor in Massachusetts. 
In the Southwest, Local 1433 in Phoenix, Arizona helped Katie Hobbs (D) beat a dangerous election conspiracy theorist who threatened our democracy in a razor tight race. Locals 689 and 1300 teamed up to elect Wes Moore (D), who won in a landslide to become the first Black Governor of Maryland and one of only three Black Governors elected in U.S. history.
"We've gotten a lot done in Washington the past couple of years," said Costa. "Now, with our friends in control of many states, we have a great opportunity to pass pro-labor and pro-transit legislation to support ATU members and their families. ATU-COPE played a major role in these races."