Convention Sets Vision for Future "Stronger Together"
Costa Re-elected International President; Trujillo Elected International Executive Vice President, Kirk Elected International Secretary-Treasurer
"ATU" and "Stronger Together" was the call and response echoed as hundreds of delegates of our Union gathered in Las Vegas, NV, September 19 – 23, 2022, for our 60th International convention after the past few challenging years of the pandemic and a tragic mass shooting that took the lives of our San Jose members.
Delegates laid out their strategic vision to build power for transit workers and riders, address changing technology and autonomous vehicles, promote mental health in the workplace, and embrace women's, gender, and racial equity. A special memorial ceremony was held to honor and mourn our deceased Local officers, our members lost to COVID-19, our San Jose Local 265 brothers killed in a mass shooting, and one brother who took his life afterward.
Our 627 delegates re-elected John Costa as International President. Yvette Trujillo was elected as ATU's first-ever female International Executive Vice President. Ken Kirk was elected International Secretary-Treasurer after assuming the position after the passing of International Secretary-Treasurer Oscar Owens in late October 2019. Delegates also elected 18 International Vice Presidents and delegates to the AFL-CIO convention.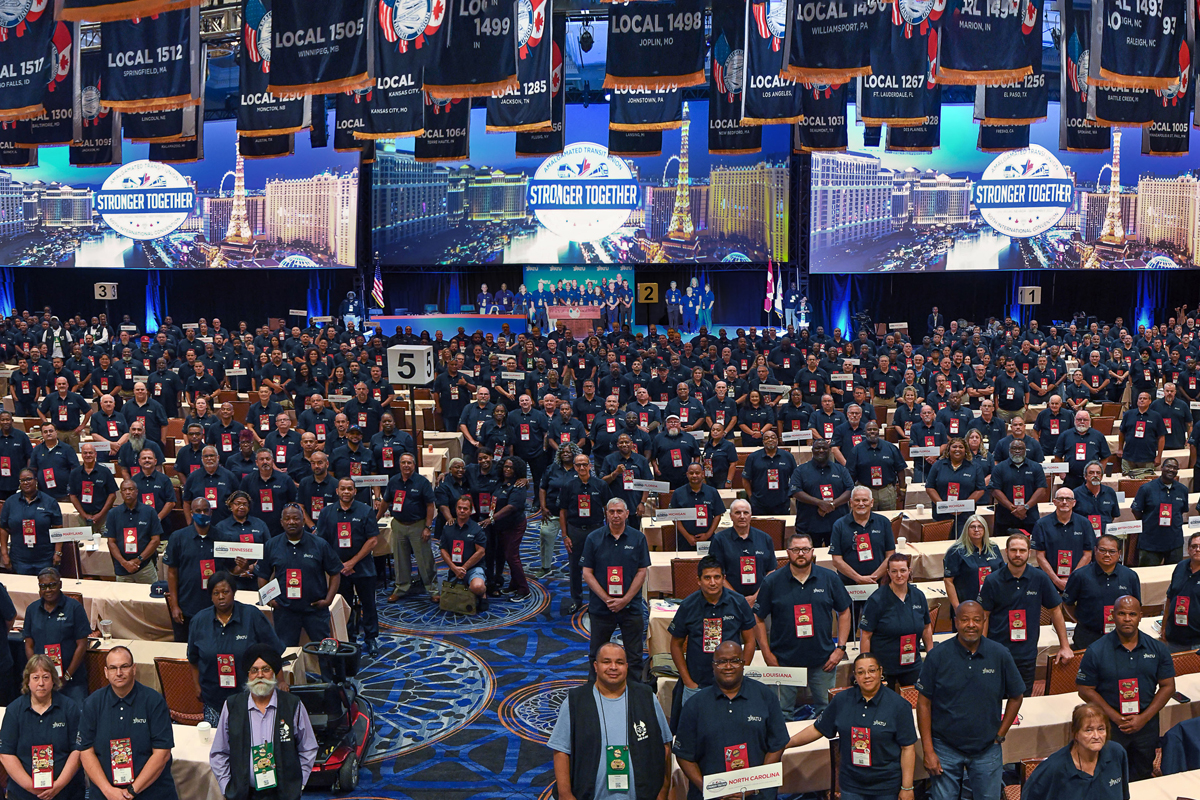 DAY ONE
The Day One festivities began with the rousing sound of bagpipers who marched throughout the Convention Hall and the Presentation of Colors by the Eldorado High School Naval Junior Reserves Officers Training Corps Company. The attendees then joined vocalist Tymara Walker in singing the Star-Spangled Banner and Kelly Vonn in singing Oh, Canada.
International Secretary-Treasurer and Temporary Chair Kenneth Kirk opened the proceeding. Host Local 1637, Las Vegas, NV, President Terry Richards, Vice President Sandra Adams, and Financial Secretary Tim Bush took the stage to offer some welcome remarks, which was followed by Kirk's introductory address.
Kirk recognized the late former International Secretary-Treasurer Oscar Owens, whose position he filled. He went on to speak about the importance of the week's convention. "And now, as delegates representing your Locals, you have the special responsibility of charting the future for our great Union. The Convention is the highest authority in the ATU. The officers and board members we elect this week will carry out that vision that you, the delegates, determine here at this convention. As the ATU has done in the last 59 Conventions, I have every confidence that we will meet the challenges we face this week."
Passing of the Gavel
IST Kirk then passed the gavel on to International President John Costa, who said he had "the difficult task of leading our union through some of the most difficult times in our history." Costa came to the podium amidst rousing cheers and applause as the song "Friendship Train" played.
International President and Convention Chair Costa introduced himself, saying, "It's my honor to welcome you as our International President to our 60th International Convention." Referring to the loss of Oscar Owens, the pandemic, and the tragic shooting in San Jose, Costa said, "It's been a challenging three years since we last met."
"Despite the loss, our Union stood together, fought like hell for protections and funding, resisted layoffs and concessions, and have organized more members than we have in a decade," Costa continued to a round of applause. "For the workers of the world who are rising up, for the generations that come after us, the sacrifices of those who came before us, we would not be this great Union, this mighty, mighty Union without you. We truly are and will always be Stronger Together."
'Keeping Our Communities Strong'
After Costa's inspirational speech, he introduced Liz Shuler, President of the AFL-CIO, who praised the ATU and our members for their commitment to keeping our countries moving. "And whether you are operating a bus or a subway, light rail, streetcar, a ferry, helping maintain or manage transit operations, I know we have got municipal employees in the room. You have got a very diverse Union, and your Union is what keeps our economy going and keeps our communities strong and moving across America and across Canada."
Good Union Jobs
International President Costa then introduced Ted Pappageorge, Secretary-Treasurer of the Culinary Workers Union Local 226 in Las Vegas. "So this is a great Union, and these are great jobs that you have all worked hard to create and protect. But we have to be honest, these jobs weren't always great jobs until you made them great jobs, and they became union jobs."
Honoring Widows and Retired International Officers
International President John Costa then honored the attending widows of former international officers, Mrs. Betty Owens and Mrs. Doris Reynolds.
Next, the ATU's retired international officers were introduced, concluding with revered retired International President Jim La Sala, who received a standing ovation.
Next, Costa introduced the current members of our International General Executive Board and our International and ATU Canada teams.
'We Are, We Are Union'
Costa introduced the Coalition of Labor Union Women President Elise Bryant, who broke into song throughout her rousing speech. "I am a union woman, just as strong as I can be. I do not like the bosses, and the bosses don't like me," along with a rendition of 'Solidarity Forever' and leading the delegates in a chant of "We are, we are union" to the tune of Queen's 'We will rock you.'
The Importance of Elections
A video message was shown from Rachel Notley, a member of the Legislative Assembly and the leader of the Alberta New Democratic Party, who spoke about the importance of elections. "Recently, Local 569, Edmonton, and Local 583, Calgary, mobilized to win important elections from city council to mayor. You were focused, and you were organized. To those Albertans in the room, if you want a better government, I'm asking you for the same kind of support in this next election."
Financial Secretary-Treasurer Awards
Next up was the Financial Secretary-Treasurer Awards, the Oscars, honoring the unsung heroes of our local unions who have distinguished themselves with service to their members with the ultimately challenging job. Award recipients were:
Salvador Morales, Local 398-Boise, ID
Harold Richardson, Local 1182-St. John, NB
Luann Bruno-Turpin, Local 1595-Pittsburgh, PA
Ralph Buccitti, Local 281-New Haven, CT
Mark Hodel, Local 752-Bloomington, IL
Dion Zacharias, Local 987-Lethbridge, AB
Rhealene Wagner, Local 615-Saskatoon, SK
Douglas Behr, Local 1267-Ft. Lauderdale, FL
Tanika Thompson, Local 1385-Dayton, OH
Toi Bowers, Local 241-Chicago, IL
Tommy Bellfield, Local 1005-Minneapolis & St. Paul, MN
Lawrence Prosser, Local 1091-Austin, TX
'Stronger Together'
International President Costa then introduced A. Phillip Randolph Institute President Clayola Brown, who has addressed numerous ATU conventions. Brown reminded attendees about the power of trust with our members. "So establish your trust. Make sure that people can trust you by what you say and what you do, be true to your union as your union is true to you. Be true to each other and do those things that you know will make you Stronger Together."
Gary Mauer Organizing Awards
Next up, ATU honored Locals for their organizing efforts with the Gary Mauer Organizing Awards presented by International President Costa and New Organizing Director Justin Panos. Awardees included:
Local 689-Washington, DC, 11 new units
Local 1743-Pittsburgh, PA, six new units
Local 1091-Austin, TX, four new units
Local 1577-West Palm, FL, three new units
Local 1336-Bridgeport, CT, 2 new units
Local 425-Hartford, CT, 2 new units
Local 448-Springfield, MA, 3 new units
Local 757-Portland, OR, 3 units
Local 1756-Arcadia, CA, 214 workers or 20% of the local
Local 987-Lethbridge, AB, 22 workers in unit or 17% of the local (largest %)
Local 569-Edmonton, AB, 121 workers in unit (largest unit)
DAY TWO
Day Two began with reports of the Credentials Committee and the Appeals Committee, which were adopted by voice vote.
New Jersey Strong
Next, International President John Costa invited good friend and President of the New Jersey State AFL-CIO Charlie Wowkanech to the stage who praised Costa and the ATU for the work done on behalf of the labor movement and talked about what they're doing in New Jersey to protect ATU members. "In New Jersey, we saw that our transportation people in the public sector on trains and buses were starting to be assaulted, and John had called me and said, Charlie, we need to do something. So what did we do? We sponsored a piece of legislation that made it a third-degree aggravated assault. If you are convicted of assaulting a bus driver, it carries a sentence of three to five years in jail and a $15,000 fine. Now, how is that? There you go. We are not going to stand for that. Lock 'em up."
Wowkanech's speech was followed by the Reports of the Next Generation Committee, the Maintenance New Technology and Workforce Development Committee, and the Paratransit Committee presented to the convention and unanimously adopted by the delegates by a voice vote.
The following resolutions were adopted:
Resolution S: Next Generation of Transit Workers
Resolution U: Advancing Careers in Transit Maintenance Apprenticeship Programs and Workforce
Resolution BB: Supporting Paratransit Members
Resolution T: Advancing Bus Operator Skills to Meet Future Workforce Challenges
Union Power
International President Costa then brought ATU Canada President John Di Nino on stage to introduce Bea Bruske, President of the Canadian Labour Congress, the second woman to hold a position representing over 3 million workers in Canada. "It is absolutely up to us to grow our union density to grow our movement. And it's also time to turn our dues paying members into committed activists because we know that when we gain union density, we gain more power. When our member's numbers grow, we grow our influence. And when our members, our existing members, become engaged, we can shape the direction of our countries, and that is how we can build a new economic and social model with workers at its core. And it's how we can create a more equitable, inclusive, and sustainable future for everyone."
Bruske's rousing speech was followed by the Operations Workforce Development Committee and the International Secretary-Treasurer's Report Committee making their reports to the convention, which were unanimously adopted by the delegates by a voice vote.
Essential Workers
Next, International Executive Vice President Javier Perez introduced Teresa Romero, the United Farm Workers (UFW) President and the only immigrant Latina President of a national union. "And as essential workers that you are and as essential workers that farm workers are, I thank you for your sacrifice. I thank you for your hard work. I thank you for your support for farm workers," Romero told attendees after asking for their support of Assemble Bill 2183 in California, which would give farm workers the right to unionize.
Todos Unidos
After Teresa's moving speech, International President Costa introduced another powerhouse Latina, Yanira Merino, President of the Labor Council for Latin American Advancement (LCLAA) and the first undocumented woman to lead the organization. "Latinas continue to be the largest group with the largest wage gap in this country. We have to offer our solidarity. We have to welcome them with open arms to our movement as we fight together to make sure that all workers, regardless of their immigration status or gender, have the same opportunity to join a union to build a better future."
After Yanira's speech, the Report of the Operations Workforce Development Committee presented to the convention and adopted by the delegates by a voice vote.
DAY THREE
International President John Costa got the day off to a rousing start with the "Don't Play With My Money" music video from the Local 689-Washington, DC, successful Cinder Bed strike that became a viral hit. Costa led a resounding convention chant asking delegates, "Who moves this city" and who responded, "We move this city."
Attendees then watched a video highlighting the successful campaigns the ATU has waged over the last three years across the U.S. and Canada.
'You Move the World'
Costa then introduced Stephen Cotton, General Secretary of the International Transport Workers' Federation (ITF), a global union federation of 665 trade unions representing 20 million workers in 147 countries in the seafaring, port, road, rail, and aviation sectors. "We all know in the labor movement, an injury to one is an injury to all. Brothers and Sisters, you move the world. You move the city, and you ensure that through the darkest times, we can keep our cities and our societies going. We saw that through the pandemic."
Next, the Report of the Credentials Committee was adopted by delegates by a voice vote.
'Pursuit of Happiness'
International Secretary-Treasurer Ken Kirk then introduced Reverend Terry Melvin, President of the Coalition of Black Trade Unionists (CBTU). "We need the ability to elect who represents us. We need a country that lives up to its founding creed that says we hold these truths to be self-evident. That all men are created equal. That they are endowed by their creator with certain inalienable rights, and among these are life, liberty, and the pursuit of happiness. I want the pursuit of happiness. I want all of my people in this country to have the pursuit of happiness. So we have to join together because when we join together, we win."
After Melvin's moving speech, attendees watched a video highlighting ATU's apprenticeship work and then heard the Reports of the International President's and GEB's Committee, the School Bus Committee, and the Over the Road Committee. The committee reports were all adopted by delegates by a voice vote.
'Our Economy Depends on You'
The next speaker introduced by International President Costa was a good friend of the ATU and union card-carrying member, U.S. Secretary of Labor Marty Walsh, who praised ATU members for the work they do. "You work tough schedules. You deal with health risks. You even face violence on the job, yet your members show up every single day to serve and protect and move their communities forward. And our economy depends on every one of you in this room and all of your members. So instead of attacking their rights, we should be defending their rights. Instead of cutting their benefits, we should be expanding benefits, especially coming out of a pandemic. You put your lives on the line every single day."
Next, the Laws Committee made its report. After engaging debate from delegates on a number of resolutions, the Committee's report was adopted by voice vote.
The following resolutions were adopted:
Resolution AA: Advancing the Interests of Student Transportation Workers
Resolution CC: Supporting Over-the-Road Bus Members
Resolution M: Providing for the Health and Safety of ATU Members
Resolution N: Protecting Mental Health and Preventing Workplace Violence
Resolution O: Not One More! Stopping Attacks on Transit Workers
'You Continue to Show Up'
Next, the ATU gave a warm welcome to Ed Kelly, General President of the International Association of Fire Fighters (IAFF), who spoke about the heroism of our members during tragedies like 9/11. "We did what we always do. We step up, just like the ATU and the IAFF did 21 years ago when our nation was attacked on 9/11. I'm proud to call the 344 IAFF members who made the ultimate sacrifice my brothers. But I'm also proud to call the ATU members who played a critical role in evacuating lower Manhattan, including injured people, my brothers, and sisters, too. You showed the best of what the labor movement, of what people are. You continue to show up every single day and serve your communities. You are the backbone of the cities and towns and neighborhoods across the United States and Canada."
Remembering Our Fallen
Next was a moving, emotional tribute to our fallen members, including deceased International Officers, our Local 265-San Jose, CA, brothers, and our 220 members lost to COVID.
A lone bagpiper played as photos of deceased International Officers scrolled across the screen. Then a video played featuring photos of our Local 265 members with a moving string quartet, followed by Local 265 President John Courtney coming up to speak about our fallen brothers. "On May 26th, our community, our Local and Union suffered one of the darkest days in our history after the deadly shooting at our rail yard that ultimately took the lives of ten of our brothers… I knew each and every one of our brothers, and each and every one were incredible people, and all were very dear to all of our hearts. They were our friends, our heroes, our colleagues, and most importantly, they were family."
The last section was a video saluting our 220 members lost to the COVID pandemic. The ceremony featured a bagpiper, a strings quartet, and a choir that sang an emotional version of Charlie Puth's "See You Again." International President Costa made closing remarks saying, "On behalf of our 200,000 members, we are here to honor our fallen and offer condolences to the families and all of those impacted by COVID-19 and the tragic shooting that took place on May 26, 2021. Your courage and your grace after such a loss has been inspiring… There's nothing more I can do or say that can replace the need to have our loved ones back in our lives, but it is our commitment as we remember the dead, we will continue to fight like hell for the living."
DAY FOUR
The day began with the Credentials Committee Chair Eric Tuck giving the final Credentials Committee report. Tuck reported that the committee found 659 credentials to be in order. Of those delegates, 627 are voting delegates; 32 are nonvoting delegates, consisting of 21 international officers, one delegate from ATU Canada, two delegates from the ATU New Jersey State Council, and one delegate from the ATU Connecticut State Conference Board and seven alternates. The delegates represented members from 199 locals, two joint bargaining councils, and ATU Canada.
The report was adopted by unanimous voice vote.
Honoring the late International Secretary-Treasurer Oscar 'Double O' Owens
In honor of our dearly departed International President, Larry Hanley, in 2019, the GEB created the Lawrence J. "Larry" Hanley ATU Life Achievement Award to be presented at each convention. The award recognizes individuals who have shown commitment to the ATU's mission and ideals and who have dedicated a lifetime of service to the ATU, our members, and all working families in the U.S. and Canada. This year's award went to departed International Secretary-Treasurer Oscar 'Double O' Owens. The award was accepted by Oscar's
wife, Betty, and his children. "Daddy was amazing," said Damon Owens. "He reminded us that if we don't stand for something, we'll fall for anything. He reminded me, us, every day that the labor movement and the Union that he loved has been a haven and a tool to uplift the working poor, the neglected, the downtrodden, the used and abused, that it has been a sounding board for those who have no voice and let us continue to stand on our principles and let's continue to remain Stronger Together."
Secretary of Transportation
Next, International President John Costa introduced a video message from U.S. Secretary of Transportation Pete Buttigieg, who praised members for the service they provided throughout the pandemic. "It's no exaggeration to say that if you had not shown the courage and the work ethic that you did, the darkest days of this pandemic would have been even darker. As we look forward, there is a lot left to do, but we're on the same page about how to do it. My department's first priority will always be safety, and that means safety in our skies, on our roads and subways, and for our transportation workforce."
COPE Awards
Next up, International Secretary-Treasurer Ken Kirk and Government Affairs Director Jeff Rosenberg joined Costa to give out our COPE awards for the Locals that have stepped up to the plate.
Winners for the Chairman Award for the Locals with the highest dollar amount contributed included:
Local 1310-Eau Claire, WI
Local 821-Jersey City, NJ
Local 282-Rochester, NY
Local 618-Providence, RI
Local 726-Staten Island, NY
The President's Award was given to Locals with the highest percentage of active members enrolled in COPE and the COPE clubs winners included:
Local 1209-New London, CT
Local 558-Shreveport, LA
Local 1575-San Rafael, CA
Local 694-San Antonio, TX
Local 726-Staten Island, NY
For the Patriot Award, given to the ATU member who contributed the highest dollar amount in 2021, Local 587's Bill Clifford was awarded for his contribution of $1,400.
Finally, a new award was created called the International President's Political Activism Award for efforts in getting members involved in the political process across North America. The winners for the United States included
Local 268-Cleveland, OH
Local 689-Washington, D.C.
Local 1300-Baltimore, MD
Local 1596-Orlando, FL
Local 757-Portland, OR
The winners for Canada included:
Local 569-Edmonton, AB
Local 107-Hamilton, ON
Local 583-Calgary, AB
Diversity, Inclusion, and Equity Committee
The Diversity, Inclusion, and Equity Committee presented its report, making its recommendations on three submitted resolutions. The following resolutions were adopted.
Resolution P: Combating Racism and Advancing the Rights of All Workers
Resolution Q: Supporting Women's Equity and Preventing and Stopping Sexual Harassment
Resolution R: Building Safety, Power and Rights for LGBTQ+ Workers.
President Joe Biden
Next was a very special video message from United States President Joe Biden. "Now, I'm always going to have your back, I promise you like you have had mine, John. Together we passed the American Rescue Plan. I have critical funding to states and cities to keep essential services going and transit workers on the job. We passed the infrastructure law, the most significant investment in passenger rail in the past 50 years, the most significant investment in public transit ever, protecting transit workers on the job, as well…I know you, and you know me, and together let's keep building a better America."
Nominations and Elections
International President
IEVP Javier Perez assumed the Chair to conduct the election for International President.
John Costa was enthusiastically nominated by Local 819-Newark, NJ, President Veronica Cobb, and seconded by Local 113-Toronto, ON, President Marvin Alfred, and Local 265-San Jose, CA, President John Courtney. Costa was unopposed and unanimously re-elected by acclamation.
"It's an honor, and it's just an amazing, humbling experience that all of you give me this honor and this energy at this convention," said Costa. "If it wasn't for all of you, I would not be here, and I just want to say thank you. It's quite an honor, and as we move forward, we can do so much if we stick together. We can get so much for our members and our Union if we stick together, and I just thank you. Please stick together, and thank you for this honor, everybody."
International Executive Vice President
Costa reassumes the Chair for the election of the IEVP.
Yvette Trujillo was enthusiastically nominated by Local 1001-Denver, CO, President Lance Longenbohn, and seconded by Local 1091-Austin, TX, President Brent Payne, and Local 583-Calgary, AB, President Mike Mahar. Unopposed, she was unanimously elected by acclamation to become ATU's first woman and Latina to be elected International Executive Vice President.
International Secretary-Treasurer
International President Costa opened the nominations for International Secretary-Treasurer.
IST Kenneth Kirk was nominated by Local 241-Chicago, IL, Financial Secretary Treasurer Toi Bowers, and seconded by Local 1338-Dallas, TX, President Ken Day and Local 85- Pittsburgh, PA, Financial Secretary-Treasurer Jeff DiPerna. Kirk was unopposed and unanimously elected by acclamation.
International Vice Presidents
The first through tenth International Vice Presidents were nominated, ran unopposed, and were unanimously re-elected. The eleventh through fifteenth International Vice Presidents were nominated, ran unopposed, and were unanimously elected. Local 282-Rochester, NY, President Jacques Chapman, and Local 788-St. Louis, MO, Vice President Catina Wilson were nominated for the sixteenth International Vice President. Chapman was elected. Local 1056-Flushing, NY, President Mark Henry was nominated for the seventeenth International Vice President, ran unopposed, and was unanimously elected. Local 1338-Dallas, TX, President Kenneth Day, and Local 268-Cleveland, OH, President William H. Nix, Sr, were nominated for the eighteenth International Vice President. Day was elected.
The International Vice Presidents elected are:
Richard Murphy
First International Vice President
Marcellus Barnes
Second International Vice President

Gary Johnson, Sr.
Third International Vice President
Michelle Sommers
Fourth International Vice President
James Lindsay
Fifth International Vice President
Emanuele Sforza
Sixth International Vice President
John Callahan
Seventh International Vice President

Curtis Howard
Eighth International Vice President
Natalie Cruz
Ninth International Vice President

Anthony Garland
Tenth International Vice President

Raymond Greaves
Eleventh International Vice President

Stephan MacDougall
Twelfth International Vice President
Kenneth E. Wilson
Thirteenth International Vice President

Amanda Sawyer-Malone
Fourteenth International Vice President

Arturo Aguilar
Fifteenth International Vice President

Jacques Chapman
Sixteenth International Vice President
Mark Henry
Seventeenth International Vice President

Kenneth Day
Eighteenth International Vice President
DAY FIVE
The Convention was re-convened on Friday, September 23, with elections for delegates and alternates to the AFL-CIO convention.
Supporting Our Local 1572 Fallen Brother
Before the elections, International President Costa welcomed to the stage Local 1572-Mississauga, ON, President Jack Jackson after one of his members, David Dongbo Zhu, was killed in a tragic workplace accident. Costa called for a collection to be made on behalf of our fallen member. A vote was taken to have the International match the donations, and it was passed unanimously.
Various Committees gave their reports, and the following resolutions were adopted:
Resolution V: Enhancing Contract Standards
Resolution W: Organizing the Unorganized
Resolution X: Strengthening Collective Bargaining and Contract Campaigns
Resolution Y: Curbing Microtransit and Promoting a Union Workforce
Resolution Z: Fighting Transit Privatization
Resolution EE: Protecting Working Families by Negotiating COLA Increases
Resolution G: Passing the Richard L. Trumka Protecting the Right to Organize (PRO) Act
Resolution H: Reinvigorating ATU-COPE
Resolution I: Electing Pro-Labor, Pro-Transit Officials
Resolution J: Protecting the Right to Vote
Resolution K: Protecting ATU Members and Workers from Labour Attacks Throughout Canada
Resolution L: Advancing and Defending Transit and School Bus Workers' Interest on the State and Local Level
Resolution A: Acknowledging the Sacrifices of Frontline Transit Workers During the COVID-19 Era
Resolution B: Protecting Workers' Jobs and Safety in Transition to Clean Transit
Resolution C: ATU Approach to Autonomous Vehicles Deployment, Safety and Training
Resolution D: Strengthening North America's Transit Systems
Resolution E: Expanding Transit to Reduce Carbon Emissions
Resolution F: Supporting Universal Healthcare
Resolution DD: Confronting the Environmental Emergency
Installation of International Officers
Retired International Vice President Randy Graham led the newly-elected International officers in reciting the Obligation, installing them in office.
Following that, the 60th International Convention of the Amalgamated Transit Union was officially adjourned. It was a great and productive week. We hope you left knowing that we will always be 'Stronger Together.'