The Problems with Microtransit
The ATU is all too familiar with privatization. Contractors like Keolis and Transdev make big promises to provide better, faster, and cheaper transit services than public agencies. Then these companies turn around and try to impose lower wages, fewer benefits, and worse working conditions on our members. Privatization isn't about public service at all. It's all about profit – using our tax dollars to reward CEOs and investors. Unfortunately, the industrywide rush to implement microtransit (on-demand, app-based transit that uses small vehicles like minibuses or vans) often follows a pattern that we've seen many times before.
Via Transportation, one of the largest microtransit companies, started out as a competitor to Uber and Lyft, offering rides directly to the public in competition with traditional taxis. But Via eventually realized that taking a cut of federal, state, and local transit funding was easier and more profitable, and the company eliminated its entire direct-to consumer service. Now Via and other tech companies, like RideCo, aggressively market their microtransit platforms to transit agencies to grow their businesses.
Independent Contractors
When Via, RideCo, and other companies offer "turnkey" solutions to transit agencies, they intend to operate the service with drivers that are categorized as independent contractors. These workers typically have no clear legal path to unionization, pay out of pocket to lease and fuel their vehicles, and are not eligible for critical benefits like health insurance, unemployment insurance, and workers' compensation. This is particularly alarming when we see agencies try to shift fixed route and paratransit work over to microtransit. The use of independent contractors is a direct attack on our work and the entire middle class. 
Whatever the merits of microtransit might be, we cannot allow it to become yet another privatization scheme. We hear a lot of talk about improving equity for riders – a worthy goal – but little consideration is given to the pay, working conditions, and quality of life of the workers operating the service.
The Fight for Microtransit Workers
Nevertheless, our ATU Locals are fighting to ensure that microtransit services have the highest standards possible. They are negotiating to keep the work in-house with good wages and benefits and organizing microtransit workers into our Union wherever they can.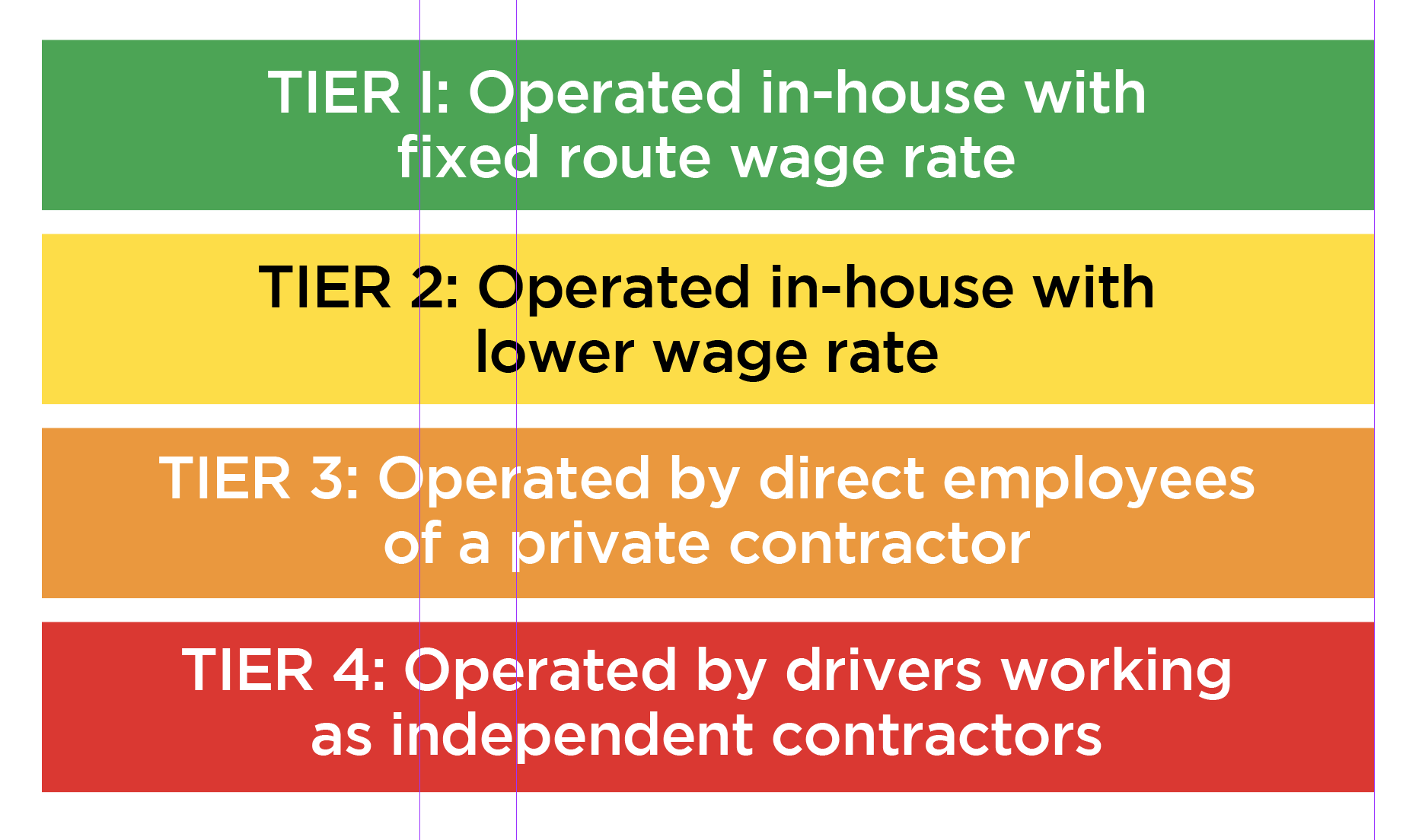 Take a look at the chart and think about in which tier your region's microtransit would fall. Our goal is to improve the nature of the service by at least one tier. This might require taking strong positions in contract negotiations, organizing new workers, or running a political campaign to force your board of directors or city council to restructure the service. This work is necessary to protect the livelihoods of our members and preserve union jobs across the industry.
Good Transit Jobs and Service
There is a lot of hype around microtransit right now, but money being siphoned away by Via and RideCo might be better spent on reducing headways, improving bus shelters, enhancing pedestrian connections to stops, and adjusting routes to better serve passengers. Microtransit simply cannot serve the same level of ridership as fixed routes, and it will do little to help reach our climate goals that require a massive reduction of vehicle emissions. 
We can raise these critical issues while also being open minded about the possibility that new modes of transit, implemented in good faith, could improve our systems. The ATU will continue the fight for good transit jobs and good – public – transit service.