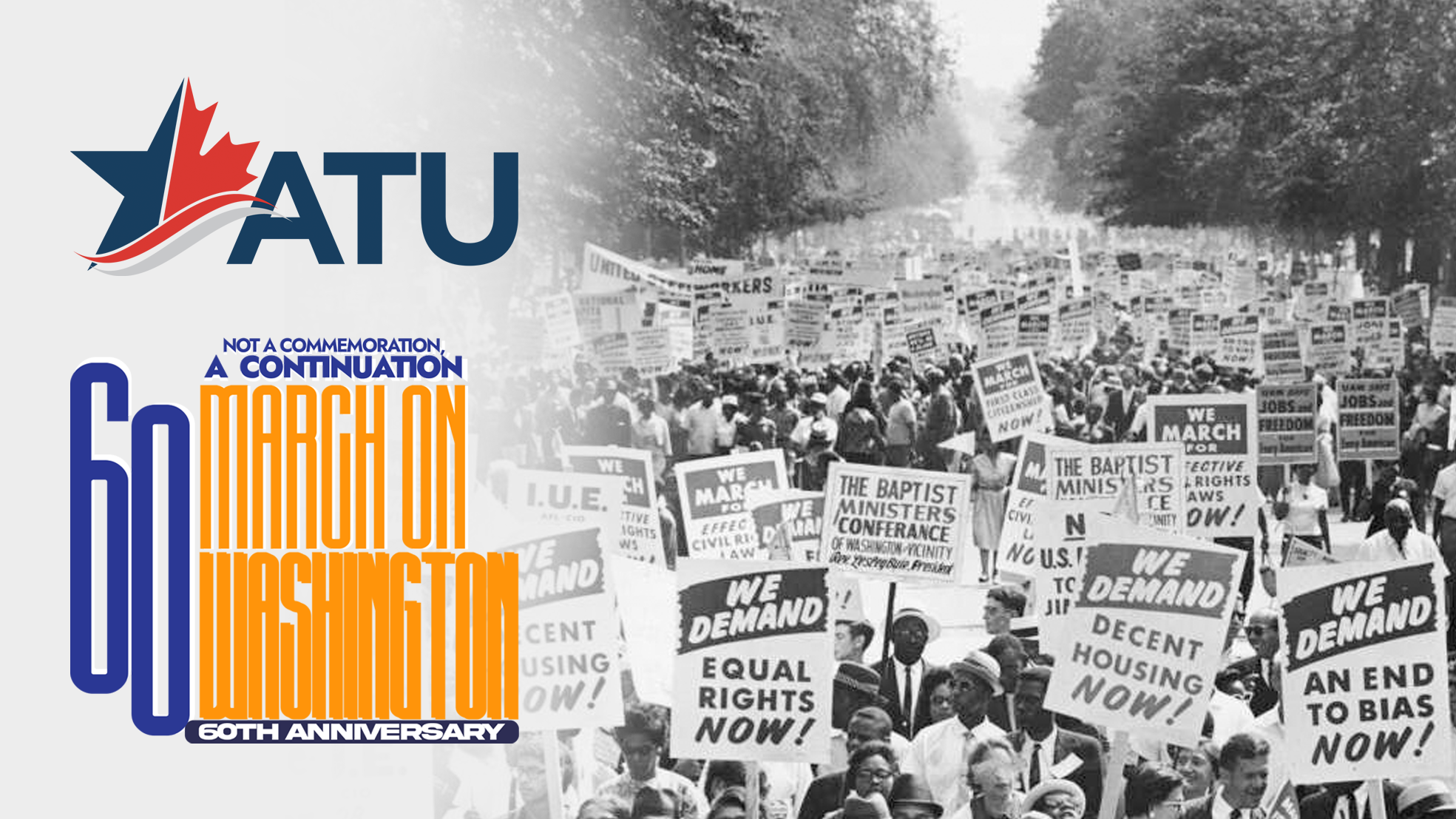 This year marks the 60th anniversary of the March on Washington for Jobs and Freedom. The ATU is partnering with the AFL-CIO and the National Action Network and the family of Martin Luther King Jr. for the commemoration and rally that will take place Aug. 26 in Washington, D.C. We encourage our Locals and members to attend and participate in the March if possible.
This month's demonstration will not just be a commemoration but a continuation of the "dream" Dr. King outlined at the Lincoln Memorial in 1963. With democracy under threat and violent hate crimes on the rise, it is essential to galvanize around that dream and push back against the concerted efforts to peel away hard-won civil rights. 
The rally will include labor leaders and union members, civil rights leaders, activists, clergy and working people coming together from across the country to amplify the call for racial and economic justice, fight back against sustained attacks on civil and workers' rights, and continue the fight for progress. 
Important Details on the March:
Location: Lincoln Memorial, Washington, D.C. 
Date: Saturday, August 26, 2023 
Program:
Pre-program—8–11 a.m. 
Program—11 a.m.–1 p.m.
March—1–3 p.m. 
The march is a half mile in distance. Marchers will begin lining up at 2 Lincoln Circle NW and proceed south on 23rd Street, crossing through the median onto the southern portion of Independence Avenue toward Ohio Drive. Participants will march to West Potomac Park, serving as the dispersal point. Marchers will depart to a metro station location, including Farragut West and Farragut North, Federal Triangle, and Smithsonian. Anyone not marching will exit the Lincoln Memorial and National Mall.