From the VTA in San Jose, CA, to Metro in the Twin Cities, MN, to TriMet in Portland, OR, and many other transit agencies, the ATU has been setting the standard for apprenticeships in North America.
NAW is a nationwide celebration where labor and industry leaders come together to highlight the successes and value of apprenticeship programs that have helped rebuild our economy, advance gender, and racial justice, and support underserved communities. NAW is an opportunity to recognize apprenticeship programs as a proven and industry-driven training model that provides a crucial talent pipeline to address some of our nation's most pressing challenges.
In celebration, the ATU is taking part in National Apprenticeship Week (NAW) by highlighting the success of our members who have advanced their careers through our innovative apprenticeship programs.
Germaine Porter, Local 689- Elevator Escalator Master Technician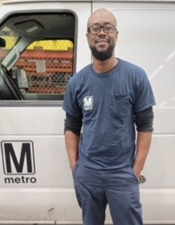 Germaine Porter began his career at WMATA as a busmechanic before moving into overhaul repair. He wasn'tsatisfied with that job since it was repetitive, and he wantedsomething more challenging. He was told about the elevatorescalator apprenticeship program by a senior overhaulrepairman. His co-worker encouraged him to take the testeven though he didn't know anything about elevators andescalators. As a result of those encouragements, Germainewas able to pass the initial test for the apprenticeship programand graduated from the program three years later in 2009.According to Germaine, the key to graduating the programwas taking it seriously and studying because theadvancement of his career depended on it.
Sherry Chestnut, Local 732- Journey Worker Bus Mechanic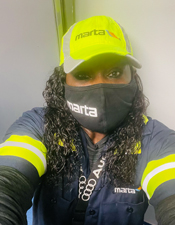 Sherry Chestnut joined Local 732-Atlanta, GA, as a part-time Parking Clerkat MARTA while she cared for her ailing mother. After working at MARTAfor 22 years in several departments, including both bus and rail, her husband suggested she try the bus mechanic apprenticeship program. Sister Chestnut decided to enter the apprenticeship program because she enjoyslearning new things. While she found the program to be very hard andchallenging, she was motivated to complete the program becauseof her husband's encouragement. Sadly, he passed away beforeshe could complete the program. However, Sister Chestnut knewhe would be so proud when she graduated from the apprenticeshipprogram in 2020. Sister Chestnut is currently the only female busmechanic in her department, and she uses her platform to encourageother women to pursue the apprenticeship program. Sister Chestnutsays that she never thought she would become a bus mechanic,but she loves what she does, and the knowledge she has gainedwill never be taken away from her.
Aleiarose Vaupel, Local 1575- Bus Operator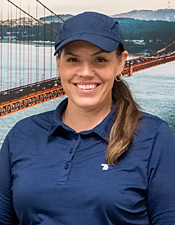 After working for a private charter company, Aleiarose Vaupelwanted a job with more stability, better pay, and a pension.She applied to Golden Gate Transit and started their coach operator apprenticeship program with Local 1575-San Rafael, CA. She soon learned that operating public transit is very different from operating private charter buses. Her mentor was the key to her success inthe apprenticeship program. Sister Vaupel trusted her mentor,who took away all her worries and anxiety and made sureshe had all the tools she needed to succeed as a busoperator. Having worked at Golden Gate Transit forthree years, Sister Vaupel is now a mentor because shewants to pay back what was given to her and passthat feeling of success on to her fellow new operators.